Toronto Nightlife Guide: TOP 20 Bars & Clubs
This is my ultimate Toronto nightlife guide featuring the Top 20 bars & nightclubs which I carefully selected and includes 'something for everyone' ranging from the Rec Room, Tilt, Toybox, Rebel, Century, SPiN to CODA.
Tips & Advice
Why: Largest selection of bars & nightclubs in Canada.
When: Spring, Summer & Fall
Last Call: 2:00am, special events 4:00am
Accommodation: Stay near the Entertainment district (Booking.com)
Best Toronto Bar: Belfast Love (Friday night)
Best Toronto Nightclub: REBEL (Saturday night)
Related: Montreal Nightlife Guide
Book Now: Toronto Pub Crawl for $39 USD
I have spent the last decade living in Toronto and during these 10 years seen a lot of nightclubs and bars come and go. It was very difficult to make a Top 20 list of my favorite establishments that I consider here to stay.
Places
1. Belfast Love

Great laid back bar for drinks, food, billiards and their funky dance floor.

2. SPiN

Large underground ping-pong bar, one of the coolest locations in Toronto.

3. Baro

One of the more upscale restaurants on King St with an incredible menu.

4. Escobar

Above Baro you'll find Escobar, a Columbian themed upscale dim house club.

5. The Dime

Perhaps the best place for good music and amazing food, especially on a budget, all dishes are $5!

6. Cold Tea

Unique hidden dive bar located in a creepy corridor behind a large metal door.

7. Drake Hotel

Considered the best place for a solid night out in Toronto, known for attracting a good looking crowd and offers 3 large floors.

8. Rock n Horse

Beer, country music, line dancing and a mechanical bull. This bar is your ultimate country destination!

9. 2 Cats

Popular hookup place with a cozy mature atmosphere. 2 Cats is a truly place to mingle when you are single!

10. Madison Avenue Pub

Largest pub in North-America known for having 6 floors, 11 bars and 3 patios. A popular student bar that is not to be missed!

11. The Rec Room

My favorite spot in Toronto for its many arcades, board games, food court, weekend night club and local crowd. Do not miss the crazy VR experience!

12. Tilt Arcade Bar

Coolest arcade bar in Toronto, for $5 entrance you get to play all their games for free including their massive pinball machine collection.

13. Harriets Rooftop Bar

Super upscale bar but offering the most incredible views of the Toronto skyline, please dress to impress!

14. Judys Toronto

Located inside of Dasha restaurant, Judys is a tidy upscale club with a hot looking crowd dancing to rap & hip hop.

15. Figures

Unique comic book themed bistro and nightclub, go here for a classy dinner party and get greeted by Darth Vader himself.

16. Toybox

For fist pumping roll by Toybox, they offer a large dance floor and unique light system, music of choice: EDM

17. Rebel

Largest nightclub in Toronto with an incredible dance floor and light system. Make sure to check their events page!

18. Coda

Techno heads can find their soul at the popular CODA nightclub inviting often popular techno DJs.

19. Nest

Another popular techno club in Toronto and in close proximity to Coda.

20. Cabana Pool Bar

For a good day time party do not miss a sunny day party experience at Cabana rocking incredible views of Toronto.
Map Download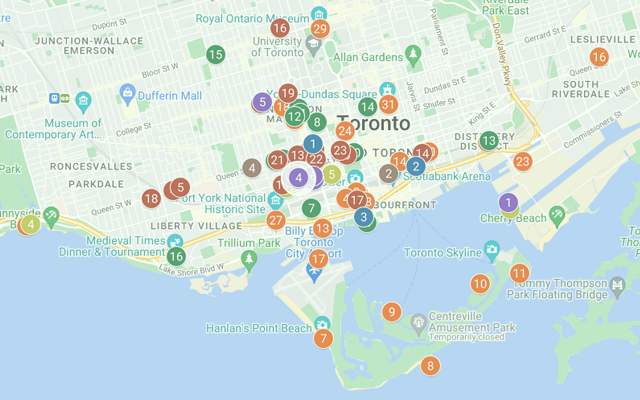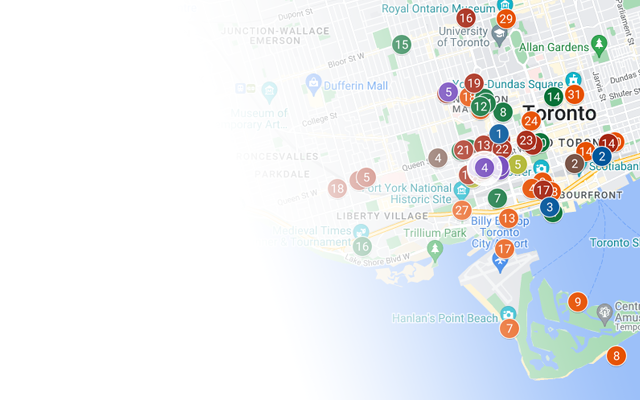 TORONTO
Master Map
100+ hours of research went into creating this ultimate map including:
Attractions • Restaurants • Rooftops
Bars • Nightclubs • Walking Routes
and Bonus Tips.
Toronto is massive and counts over 400 bars & nightclubs thus I recommend planning out your night carefully especially during the winter months and take an Uber or Lyft between the districts. The most prominent nightlife entertainment districts are King St West, Queen St West, Ossington and the Docks.
Sundays at Uniun Nightclub in Toronto
Start off you Toronto nightlife adventure with local food and drinks at one of the many social bars like the Rec Room and Tilt Arcade Bar at which you can play video game arcades while you can drink.
Munch on mindblasting food at Belfast Love, a popular social bar with beer tables and billiards. Alternatively, grab a fancy meal at Baro, an upscale restaurant serving incredible dishes, try ordering their 'Big Ass Steak' haha! If you are on a budget check out The Dime, all their dishes are served for $5 each and are quite delicious.
visually appealing tiradito dish at Baro in Toronto
Amazing bars and nightclubs on King St include SPiN for cocktails and ping-pong, Century, hookup bar 2 Cats for its cozy atmosphere, and the giant nightclub Toybox (formerly known as Uniun) for its fistpumpin' EDM.
Top of your nightlife at one of the high profile bars & nightclubs in the city like Rebel, Drake Hotel and CODA. Now on the downside, remember that the Toronto nightlife is short-lived with bars closing at 2:00am and clubs at 3:00am which could feel like a rushed evening. I do recommend you join the Toronto Pub Crawl for just $39 USD to experience the gorgeous skyline of Toronto by night.
an incredible evening with my friends at the Thompson Hotel lobby in Toronto
These are some of my favorites photos I took throughout the Toronto nightlife the past few years including my Torontonian friends, the extravagant dishes Toronto restaurants have to offer and the general atmosphere during the epic Toronto nightlife.
Do you want more tips for Toronto's Nightlife?
Ripley's Aquarium, has a Friday night cocktail party every second Friday of the month. Go watch the sharks, jelly fish and sting rays.
Nuit Blanche, most bizarre event in Toronto. Streets will be shutdown to display unique street art until sunrise in September.
Ossington Street, one of the more popular streets for hipsters and awesome dive bars.
Karaoke, end your night at Toronto's many karaoke lounges like Dragoncity Karaoke, Karaoke 8090, B Boss or the incredible Bar+ Karoake Bar.
Dreams, is another massive summer festival with a fantastic EDM lineup.