30 Secrets & Things to do in Oslo, Norway
These are my carefully selected 30 things to do & best places to visit in Oslo which I visited during a warm summer weekend and includes gems like Frogner Park, Viking Ship Museum, Whale Sushi, Stratos rooftop, eating black licorice ice cream and tips for the vibrant Oslo nightlife.
Tips & Advice
What: Oslo, capital of Norway
Why: Most laid-back city in Scandinavia with tons of attractions!
Discount: Be smart and buy the OSLO PASS to save lots of money on attractions and transportion, only $50 USD!
Tips: Visit in July & August for excellent warm weather.
Related: Tips for the Oslo Nightlife and my Oslo Snacks Review video.
I did not have high expectations for Oslo but during this warm summer weekend the city offers many outdoor attractions, a great place to start is Aker Brygge to try the local delicacy Polse, a fancy hot dog rolled in bacon and injected with cheese than from Aker Brygge walk to the other popular attractions like the Royal Palace, Karl Johans Gate shopping street, Vippa, the Opera House or Sorenga outdoor beach deck.
Places
1. Aker Brygge

Upscale harbor front of Oslo with gorgeous views of Oslofjord.

2. Pølse Hot Dog

Most famous Norwegian hot dog wrapped in bacon and injected with cheese.

3. Whale Sushi

Try raw whale sushi at Det Nye Fisketorget at Aker Brygge.

4. Black Licorice Soft Ice

Hennig Oslen at Aker Brygge sells bizarre soft ice with black licorice sprinkles.

5. Salted Licorice Ice Cream

Paradis Gelateria is unique for its Sal Ammoniac Ice Cream.

6. Oslo Radhus

Oslo's city counsel including impressive murals on the walls.

7. Frogner Park

Collection of 200 bizarre sculptures by Gustav Vigeland and a unique attraction in Oslo.

8. Royal Palace

Norway is a kingdom with its Royal family residing at the slottet downtown Oslo.

9. Karl Johans Gate

Located next to the royal palace, Karl Johans Gate is the main shopping street of Oslo.

10. Studenterlunden Park

Gorgeous downtown park and great to stroll around on a sunny day and admire its large fountains.

11. Norwegian Museum of Cultural History

My favorite museum in Oslo with a stave church dating from 1200 completely built out of wood.

12. Viking Ship Museum

Photos don't do this place justice, I did not know viking ships were this large.

13. Fram Museum

Norwegian polar exploration mission vessel built in 1891.

14. Norwegian Maritime Museum

Learn more about the massive ship building industry of Norway including popular cruise liners.

15. Kon-Tiki Museum

During a 3 month journey in 1947, Thor Heyerdahl proved the South Pacific islands to be colonized by South Americans.

16. Fiskeriet Youngstorget

Indulge on fresh Norwegian fish including raw salmon cuts and fried cod.

17. Vippa

Hipster food hall at the harbor front of Oslo, great for an afternoon lunch.

18. Opera House Oslo

Most impressive building of Oslo, modeled after flat iceberg shapes with inclines,

19. SALT

Cool harbor front spot across the Opera House, a nomadic art lounge with bars and coffee shops.

20. Sørenga Sjøbad

Luxurious neighborhood with fantastic outdoor deck where you can swim and socialize with the local.

21. Ekebergparken

Bizarre sculpture park and great views of Oslo from the Ekeberg Restaurant.

22. Akershus Fortress

Fantastic views of Oslo and watch massive cruise liners dock at the harbor front.

23. Resistance Museum of Norway

Education experience about occupied Norway by the Nazis during World War II.

24. Rorbua

Incredible restaurant serving local Norwegian dishes, try the Tastes of Norway meat stick.

25. Brown Cheese Ice Cream

Unique traditional Norwegian dessert: caramelized cheese ice cream at Louise restaurant.

26. Mathallen Oslo

Brand new food hall with unique restaurants and shops located in the student district Grünerløkka.

27. Magic Ice Bar

Cheers on ice wine at enjoy the ice version of the famous SCREAM painting.

28. Stratos

Enjoy cocktails at the amazing rooftop lounge Stratos with a remarkable patio.

29. The Thief Rooftop

Upscale rooftop lounge at one of the most prestige hotels of Norway.

30. Oslo Nightlife

One thing that was beyond all my expectations; the nightlife. Oslo has many incredible bars & nightclubs, watch my full review.
Map Download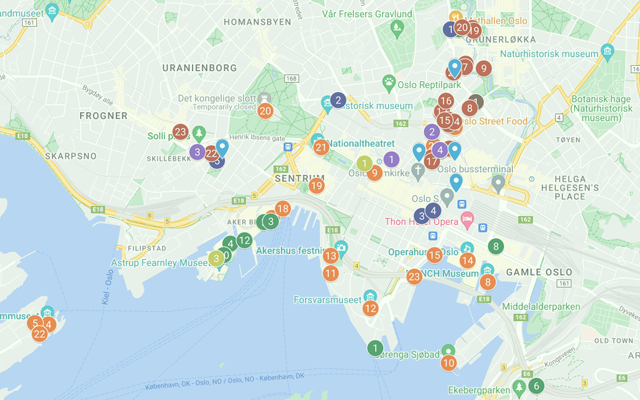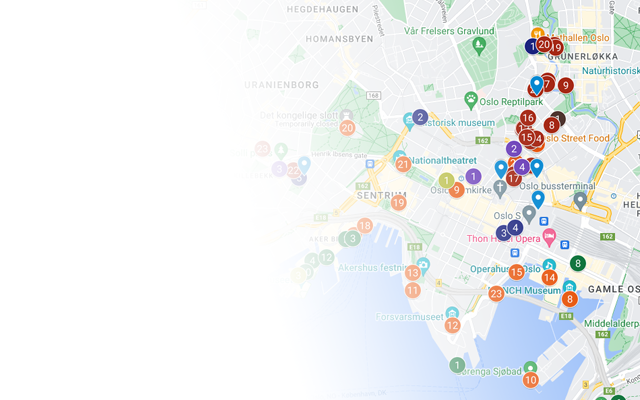 OSLO
Master Map
100+ hours of research went into creating this ultimate map including:
Attractions • Restaurants • Rooftops
Bars • Nightclubs • Walking Routes
and Bonus Tips.
Oslo is the capital of Norway and its metropolitan area has a population of 1.5 million including their royal family since Norway is a kingdom and is the only country in the world with territories in both the Arctic and Antarctica.
gorgeous view of the Royal Palace from the Karl Johans Gate
One important thing you must keep in mind; Oslo is extremely expensive and is rated one of the most expensive city in the world by Forbes Magazine, to give you an example, a simple hot dog will set you back $6 US dollars and that is considered on the cheap side.
In return for being an expensive city you get a very safe and easy going Scandinavian city experience. Public transit is easy to use and many signs and menus at restaurants are in English. The most bizarre dish I've had must have been the Brown Cheese Ice Cream for which you'll have to watch my Oslo snacks review video.
brown cheese ice cream at Louise restaurant in Oslo
The Frogner Park must have been the most unique sculpture park I've ever been to, it is world's largest sculpture park by a single artist. Created by Gustav Vigeland between 1924 and 1943 with incredible sculptures like the angry boy and consist out of 200 works.
My favorite museum in Oslo is the Norwegian Museum of Cultural History for having a lot of great performances, historic foods and snacks to try and the overall feeling like you got transported back to the Viking ages.
my American friends met me in Oslo after their trip in Svalbard
Out of the blue I received a Facebook message from my American buddy Andrew who was coincidentally stopping by Oslo on his way home from the Arctic Norwegian island Svalbard to the United States. I met up with him and his girlfriend at the famous fish restaurant Fiskeriet Youngtorget for the freshest Norwegian salmon I've ever tasted.
After lunch I took my friends to the Akershus Fortress for the best view of Oslo and a little historic tour through Norway's Resistance Museum which teaches about the Nazi occupation of Norway during WW2.
meeting the staff of Rorbua Aker Brygge after an incredible dinner in Oslo
For dinner I wanted to try true Norwegian cuisine and luckily Rorbua on Aker Brygge is known for having some of the best dishes in town. I ordered the Tastes of Norway meat stick with meats; Whale, Deer, Beef & Reindeer. An incredible dish with as winner: Reindeer for being extremely juicy, this dish cost me around $45 US dollars and don't forget to add the typical Norwegian beer Hansa.
Before the night falls, grab a few cocktails at either the Magic Ice Bar for some Norwegian Ice Wine or on top of the Thief Rooftop patio for the most upscale cocktail bar in town.
enjoy ice sculptures at the Magic Ice Bar in Oslo
In conclusion, Oslo is a great 2 to 3-day stop over during the summer to enjoy a few outdoor activities, learn about the history of Norway and make many new friends, especially during the weekend nightlife of Oslo but for that you'll have to read my next article.