50 Things to do in Lisbon, Portugal
Lisbon, renowned for its exceptional cuisine, warm-hearted locals, and affordability, beckons travelers with its irresistible charm. This city has a remarkable blend of historic districts, lively nightlife, and cultural richness. Including districts; Baixa, Alfama, Chiado, Bairro Alto, Belem and Sintra and things to do like; Ramiro, Tram 28, The Best Portuguese Egg Tarts, Miradouros, Trobadores, Puppet Museum, A Cevicheria, Seafood Rice, Fado, Pink Street and the vibrant Lisbon Nightlife and Lisbon Pub Crawl.
Map Download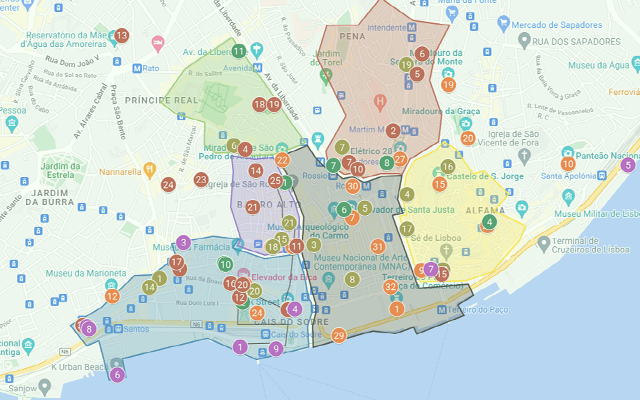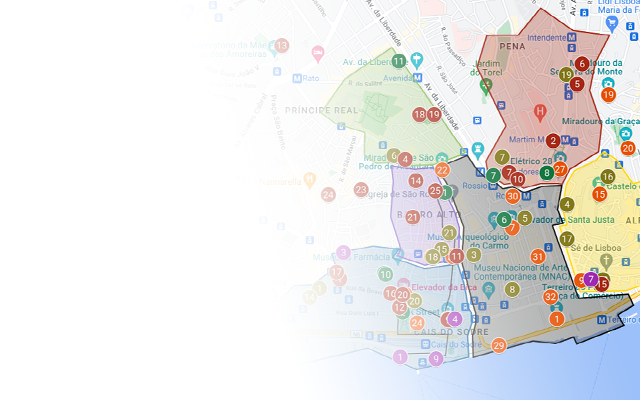 LISBON
Master Map
100+ hours of research went into creating this ultimate map including:
Attractions • Restaurants • Rooftops
Bars • Nightclubs • Walking Routes
and Bonus Tips.
Our adventure begins in Alfama, a captivating old town that miraculously survived the devastating 1755 earthquake. As you navigate its steep and winding cobblestone streets, you'll be immersed in an authentic Lisbon experience. To kickstart your exploration of Alfama, we recommend hopping on Tram 28, which traces one of the city's last ancient tram routes. Just be alert when crossing the streets; these charming trams can seemingly appear out of thin air.
Places
1. Tram 28

Famous yellow tram that takes you on a scenic route through the historic heart of the city, passing by key landmarks like São Jorge Castle and Alfama. It's a popular and picturesque way to explore Lisbon.

2. Tasca Baldracca

One of the best restaurants in Lisbon, go here for there epic soft crunchy Octopus legs, and veal cheeks. Their dishes are world renowned and will satisfy all your taste buds.

3. Café da Garagem

One of the most unique cafes in Lisbon, hidden in the basement of an old movie theater with one of the best views of the Graca district. A great spot to bring a date or work remotely.

4. Santa Clara Market

Large outdoor market on the east side of Alfama, which includes a large flee market selling items like; portuguese tiles, clocks, antiques and clothing, and indoor music market where you can browse through old vinyls.

5. National Pantheon

The National Pantheon in Lisbon is a significant monument where notable Portuguese figures are buried, showcasing the country's cultural heritage and history. It has an incredible rooftop observatory deck. Entrance ticket $4 USD

6. Saint George's Castle

Saint George's Castle in Lisbon is a historic hilltop fortress with sweeping panoramic views of the city. This iconic landmark offers visitors a glimpse into Portugal's past. Entrance is $15 USD, can get crowded during the afternoon.

7. Santa Luzia Viewpoint

Santa Luzia Viewpoint in Lisbon is a picturesque terrace that provides stunning views of the city's old town, Alfama, and the Tagus River. It's a perfect spot for admiring Lisbon's beauty and capturing memorable moments. There is often a saxophone music artist performing.

8. Lady of the Hill Viewpoint

Tranquil and scenic escape with breathtaking views of the city. Located a bit further than most viewpoints (miradouros) but definitely worth a visit for a more broad panoramic city view.

9. Graça Viewpoint

100% most beautiful viewpoint of Lisbon due to the best composition of Saint-George castle, downtown Lisbon and the 25th of April bridge. This view has it all, but tends to get very busy during sunset. There is also a bar where you can grab drinks to enjoy the sunset with a date.

10. Grilo Palace (Actors Restaurant)

Restaurant in the middle of a living theater, where each member of the team is an actor or performer, ready to surprise you. Get ready for a wacky experience, like you ended up in the movie: Eyes Wide Shut

11. Commerce Square

Praça do Comércio in Lisbon is a grand and historic square facing the Tagus River. It is known for its stunning architecture, including the iconic triumphal arch, and serves as a central hub for both tourists and locals.

12. Lisbon Waterfront (Ribeira das Naus)

Beautiful waterfront board walk with a beach along the Tagus river, right next to Commerce Square. Walk towards the 25th of April bridge on a nice sunny day to take in the warm weather.

13. Portuguese Cod Cakes (Cozinha d`Avó Celeste)

Bolinhos de Bacalhau, are tasty deep-fried fritters made from salted codfish and potatoes, enjoyed as a popular snack in Portugal.

14. Rossio Square

A historic and vibrant plaza known for its distinctive cobblestone pattern, a statue of Dom Pedro IV, and picturesque 19th-century buildings that host shops and cafes.

15. Mundo Fantástico da Sardinha Portuguesa

Most colorful canned sardine shop in Lisbon. These small, oily fish are caught off the coast of Portugal, packed in flavorful oils or sauces, and sealed in tin cans. DO NOT buy the gold sardine cans, it is a total rip off for €25 euros.

16. Trobadores Medieval Tavern

Underground medieval tavern for Portuguese scortched sausage, they literally lit them on fire in front of you. Their tapas dishes all go for €5 euros each, which is a great deal in a medieval atmosphere.

17. Santa Justa Lift

An elegant iron-crafted elevator in Lisbon, provides panoramic views of the city and is both a historic and architectural marvel. Modelled after the Eiffel Tower. However, you could be waiting in line for an hour. I suggest you walk up to save time and money.

18. Carmo Rooftop

Charming rooftop next to the Santa Justa lift and Carmo church, great for drinks and refreshments with excellent views of the Santa Justa lift.

19. Carmo Church

Partially destroyed by the 1755 Earthquake and is now a museum in Bairro Alto. Entrance is $5 USD and offers a great exhibition on the history of Lisbon and the earthquake.

20. Pop Cereal Cafe

Want to start Lisbon on a nostalgic vibe? Checkout this breakfast cereal cafe for all your cereal classics, from Kellogg's to candy toppings, they have it all.

21. Sao Pedro Alcantara Viewpoint

Bairro Alto district also has a great viewpoint from the west-side of Lisbon overlooking downtown Lisbon, Alfama and Graca districts. Come here in the evening with a date to admire the views and jump directly into the cocktail bar scene of Lisbon.

22. A Cevicheria

Popular restaurant known for its exquisite ceviche dishes, featuring fresh seafood marinated in zesty flavors. It's a must-visit spot for seafood lovers seeking a taste of Peru in Portugal.

23. Casa da India

Popular Portuguese restaurant in the heart of Lisbon often visited by locals and expats alike. They serve the widely popular spicy piri-piri chicken for great prices. Full chicken $7 USD, half chicken $3.50 USD

24. Seafood Rice (Arroz de Marisco)

My favorite Portuguese dish is arroz de marisco, which includes lobster, shrimp, clams, and a ton of other seafood. It is the Portuguese version of the Spanish paella. You can try it at most seafood restaurants in Lisbon.

25. O Trevo

Try the famous Portuguese pork sandwiches, Bifana. Super cheap buns with a juicy slice of pork cutlet, add some spicy mustard and just munch away. Just $3 USD dollar per Bifana.

26. Fado in Chiado

Enjoy a famous Fado Portuguese music experience at many bars in the Bairro Alto or Alfama districts, or attend the popular Fado in Chiado show which is a large show dedicated to Fado. Tickets just $21 USD

27. Luis de Camoes Square

Praça Luís de Camões in Portuguese, is a charming square located in the heart of Lisbon, Portugal. Named after the renowned Portuguese poet Luís de Camões. Go here for the famous mosaic cobblestone streets and art work.

28. Elevador da Bica

Picturesque cable railway in the historic Bica neighborhood. This charming funicular, dating back to the late 19th century, transports passengers up and down the steep hillside with stunning views of the city and the Tagus River.

29. Pink Street

Vibrant and lively nightlife destination known for its pink-painted pavement and facades. This trendy street comes alive at night, with numerous bars, clubs, and restaurants for socializing in Lisbon's Cais do Sodré district.

30. Sol e Pesca

Offers a cozy and nostalgic ambiance where customers can enjoy fresh seafood and drinks. Uniquely, this spot has no kitchen, dishes are served directly from the seafood cans, and the menu is a fishing rod. You gotta see it to believe it!

31. Puppet Museum

My favorite museum in Lisbon, housed in an 18th-century building, features a diverse international collection of puppets, including marionettes and shadow puppets. Many of its puppets are very creepy, but great for inspiration. Tickets just $5 USD.

32. Time Out Market

Go here for an absolute food adventure, a massive food market open late with popular Portuguese vendors. However, not every vendor is great, I suggest you go to the vendors with the longest lines. Also, try the Tiramisu donut, you won't regret it!

33. Green Street

A mostly unknown street to most tourists, and an alternative to Pink street. Green street is way more laid-back with little shops, restaurants and cafes. It is a great area to start the early evening.

34. Anta Bar

Located on Green Street, go to Anta Bar for the famous seafood on a stick. A massive skewer with shrimps, octopus and cod for just $14 USD. It is a taste buds explosion.

35. Casa do Alentejo

Remarkable cultural center housed in a beautifully restored 17th-century moorish palace. It serves as a hub for showcasing the traditions, culture, and cuisine of the Alentejo region.

36. Ramiro

Best seafood restaurant in Lisbon where you may have to wait in line for 2 hours, but the wait is well-worth it. Try the gooseneck barnacles, buttery shrimp, carb head, carb legs with the hammer, and clam soup. Totally worth the $180 USD we ended up paying.

37. LX Factory

LX Factory offers a blend of history and contemporary creativity, making it a must-visit destination for those looking to explore Lisbon's thriving cultural and artistic scene. A great pitstop on route from Lisbon to Belem, underneath the 25th of April bridge.

38. Monument of the Discoveries

Prominent ship-shaped landmark that commemorates Portugal's Age of Exploration and its famous explorers. It offers excellent views of the city and the Tagus River.

39. Jeronimos Monastery

NESCO World Heritage site, celebrated for its intricate Manueline architecture and as the resting place of Vasco da Gama. It's a must-visit for history and architecture enthusiasts. Entrance ticket: $12 USD

40. National Maritime Museum

One of the better museums in Lisbon due to its rich exhibition of Portugal's colonial past reaching from Brazil to Macau, especially regarding the spice trade. It is a feast for any history buff.

41. Belem Tower

UNESCO World Heritage site in Lisbon, is a historic fortress with intricate Manueline architecture. It symbolizes Portugal's maritime history and serves as a popular tourist attraction. Tickets, just $8 USD.

42. Portuguese Egg Tarts

After reviewing tarts (Pasteis de Nata) for 1-month in Lisbon, this is the ultimate TOP 5: #5 = Pasteis de Belem, #4 = A Brasileira, #3 = Manteigaria, #2 = Fabrica de Nata, #1 = Castro (best). These tarts usually sell for $1.40 USD ($1.20 EUR)

43. Sintra

Picturesque town known for its enchanting palaces, lush landscapes, and romantic charm. It's a top destination for visitors looking to explore fairytale-like architecture and natural beauty in Portugal. Best to either rent a car or book a bus tour for $83 USD!

44. Pena Palace

Stunning 19th-century palace celebrated for its colorful and whimsical Romantic architecture, offering sweeping views of the surrounding landscape. Best tip: bring rain jackets!

45. Quinta da Regaleira

Located in Sintra. This park offer mystical gardens, underground tunnels, and enchanting architecture, making it a unique and intriguing UNESCO World Heritage site. Best tip: walk directly to the Initiation Well when you enter the park.

46. Initiation Well

Enigmatic underground structure with twin spiral wells. It's a mysterious and captivating attraction, rich in symbolism and design, inviting visitors to explore its depths. Best tip: DO NOT drop your phone in the pit.

47. Cabo da Roca

Europe's westernmost point, marked by dramatic cliffs and stunning coastal vistas overlooking the Atlantic Ocean. It's a symbolic and picturesque destination for travelers seeking breathtaking views.

48. Lisbon Nightlife

Lisbon has incredible nightlife in Cais do Sodre (Pink Street), Bairro Alto for its many dive bars, Boavista street where most locals party and the west-end where Lisbon's youth mostly hangsout. Watch my full Lisbon Nightlife Guide!

49. Lisbon Pub Crawl

New to Lisbon and ready to mingle? Kick off your night in style with the pub crawl, one of the biggest and most fun ones in Europe during which you make many new friends, free shots, and VIP entrance to the biggest nightclubs for just $22 USD!

50. Lisbon Card

Enjoy free entry to top attractions, unlimited public transport, discounts, and more. Your ticket to a hassle-free and memorable Lisbon adventure! For either 24, 48 or 72 hours and starts at $23 USD!
After a morning of discovery, replenish your energy with an epic brunch at Tasca Baldracca, a hidden gem bursting with a variety of flavors. Savor their local specialty, grilled octopus with smoked paprika and aioli, or indulge in the succulent veal cheeks paired with chestnuts and demi-glace. For a change of scenery, make your way to Garage Cafe, an underground oasis nestled in a cinema basement. Here, you can enjoy your coffee with astonishing views of the Graca district, making it an ideal spot for a date or remote work session.
Best view of Lisbon at the Graça viewpoint (Miradouro)
As you venture beyond Alfama, you'll find the Santa Clara market and Lisbon flea market, where you can explore a wide array of items, from souvenirs and vintage radios to antiques, clothing, and even a vibrant Portuguese music market. And if you're in the midst of home renovations, you might just stumble upon some exquisite Portuguese tiles.
Your Lisbon journey wouldn't be complete without a visit to the National Pantheon, a grand structure housing the tombs of distinguished Portuguese figures. Inside, you'll be captivated by the exquisite marble work and intricate sculptures. Just remember, if you're afraid of heights, you might want to skip the rooftop terrace. However, if you dare to ascend, you'll be rewarded with exceptional views of Alfama, perfect for photography enthusiasts.
Anta Bar, seafood on a skewer in Lisbon
For the ultimate panoramic view of Lisbon, head to the Saint-George Castle, situated atop the city's highest hill. Though the climb from the city center is steep, the breathtaking vistas make it entirely worthwhile. Just exercise caution as you explore this historical fortress, especially when taking selfies.
Lisbon's viewpoints, known as Miradouros, offer stunning vistas. While Santa Luzia boasts a beautiful terrace and intricate tile work, it tends to get crowded with tourists. The Lady of the Hill viewpoint, Miradouro da Senhora do Monte, offers a slightly quieter experience and equally mesmerizing views. However, for the best view of all, head to Miradouro de Graca, despite its popularity. Here, you can witness a captivating sunset with a panoramic backdrop featuring Castelo do Saint Jorge and the iconic '25th of April' Bridge, which played a pivotal role in Portugal's history.
Midnight dinner at Ramiro seafood restaurant in Lisbon
If you're up for a dining adventure unlike any other, consider a visit to Palacio do Grilo, affectionately known as the "actors' restaurant." Dining here feels like being in the midst of a live performance art theater, and while it's not for everyone, it's a memorable experience. Don't miss their standout dish: the delectable beef cheeks.
Moving on to the bustling Baixa district, meaning "lower town," contrasted with its counterpart, Bairro Alto, or "upper town," you'll discover even more delights awaiting your exploration.
A Cevicheria, Lisbon
Commerce Square, designed to promote Lisbon as a trading and financial hub, is an ideal starting point. Here, you'll find the impressive Rua Augusta Arch, a symbol of the city's historic significance.
Bairro Alto boasts an array of restaurants, ranging from Cevicheria, known for its fresh ceviche, to Casa da India Portugues, renowned for its famous piri-piri chicken. However, be wary of free starters, as they might end up on your bill!
Views from the Santa Justa Lift, Lisbon
Strolling through Cais do Sodre and Chiado, you'll encounter captivating Portuguese cobblestone mosaic artwork. Don't forget to ride the Elevador da Bica, a cable car that takes you down to Pink Street, famous for its vibrant colors and unique canned sardine restaurant, Sol e Pesca.
Art enthusiasts will appreciate the Puppet Museum, Museu da Marioneta, which houses an impressive collection of puppets from around the world, offering inspiration and a touch of the eerie. It's a great spot for those looking to delve into the world of puppetry.
LX Factory
Foodies can indulge their senses at Time Out Market, a paradise for gastronomes. Be sure to follow the long lines, as they usually lead to exceptional vendors. Among the mouthwatering options, don't miss the succulent slow-cooked pork and the cuttlefish croquettes, which derive their dark hue from cuttlefish ink.
Arroios, a lesser-known district atop Baxia, offers a tranquil respite. Casa doal Entejo, a restaurant housed in a historic Moorish palace, features an inner courtyard bathed in sunlight—a sight to behold.
For seafood aficionados, Ramiro is a treasure trove of aquatic delights. From crabs with hammers to giant tiger prawns in rich butter sauce, the menu is a maritime adventure. If you're feeling adventurous, try the gooseneck barnacles for a truly unique taste experience. However, be prepared for a substantial bill; a full Ramiro experience doesn't come cheap.
Now, let's venture to Belem, a quick 20-minute drive from the city center, where we'll explore a district teeming with historical landmarks and culinary delights.
LX Factory is a must-visit, once an industrial complex transformed into a thriving artsy village. Among its many attractions, LerDe Vagar stands out—a bookshop that offers an intimate theater experience inside a miniature Lisbon tram.
Begin your Belem journey at the Monument of the Discoveries, designed to commemorate Portugal's Age of Discoveries. At the helm of this impressive structure stands Henry the Navigator, an explorer who made significant discoveries, including the Azores, Madeira, and Cape Verde.
A visit to the Jeronimos Monastery, a UNESCO World Heritage site, is a journey into Portuguese late Gothic architecture. Highlights include the refectory hall and the tomb of Vasco de Gama, the explorer who sailed from Europe to India.
Adjacent to the monastery, you'll find the Belem Tower, another UNESCO World Heritage site. This fortress played a crucial role in Lisbon's maritime defense and features rounded shields bearing the cross of the Order of Christ.
To complete your Belem experience, make sure to visit Pasteis de Belem, the original Portuguese egg tart shop. These delectable treats, known as pasteis de nata, are a Lisbon must-try.
While exploring Lisbon, consider taking day trips to Sintra and Sesimbra, two charming destinations in close proximity. If you're up for an adventure, renting a car is an option.
Our first stop is Pena Palace, perched majestically on a lush mountain. This vibrant and ornate palace offers panoramic views of the Sintra Mountains and the Atlantic Ocean, making it an essential visit. To truly appreciate its beauty, ensure you visit on a day blessed with good weather.
Next, explore Quinta da Regaleira, where the Poco Iniciatico, or the Initiation Well, awaits. This spiraling staircase, shrouded in darkness, is surrounded by tales of rituals, secret societies, and age-old mysteries. A pro tip: ascend the well upon entering the park to avoid a strenuous uphill climb later. The park itself is a lush green haven and a paradise for photography enthusiasts.
Conclude your day trip at Cabo da Roca, where rugged cliffs meet the mighty Atlantic Ocean. This dramatic scenery, coupled with its status as mainland Europe's westernmost point, makes Cabo da Roca an unforgettable destination. Watching the sunset here is a must for couples and travelers alike.
If renting a car isn't within your budget, consider joining an organized bus tour that covers these destinations. Links to tickets can be found in the description box below.
As night falls in Lisbon, the city comes alive with a diverse range of venues catering to every taste. Check out our Lisbon nightlife guide for insider tips on where to find the best parties.
For a more immersive experience, consider joining the Lisbon pub crawl to make new friends, whether they be locals, expats, or fellow travelers. It's the perfect way to kickstart your Lisbon adventure.
Regarding transportation in Lisbon, the city's core is compact and easily navigable on foot. However, bear in mind that Lisbon is built on seven large hills, so sturdy footwear is essential. Public transportation options, such as trams, buses, subways, and funiculars, are covered by the Lisbon Card. If you have a more generous budget, consider using Bolt or Uber for convenience. TukTuks are best avoided, as they are often overpriced and not native to Lisbon. Similarly, escooters and bicycles can be uncomfortable on the city's cobblestone streets, especially when navigating uphill.
Before embarking on your Lisbon adventure, we strongly recommend purchasing the special Lisbon Card. This card offers significant savings if you plan to visit many of Lisbon's attractions and utilize public transportation. With options starting at just $23 for 24, 48, or 72 hours, the Lisbon Card is an excellent investment that can enhance your experience in this vibrant city.
In conclusion, Lisbon is a city of immense charm, offering a diverse range of experiences for travelers of all interests. From its historic districts and cultural landmarks to its thriving culinary scene and vibrant nightlife, Lisbon has something for everyone. Whether you're exploring the winding streets of Alfama, savoring pastries in Belem, or venturing on day trips to Sintra and Sesimbra, Lisbon's rich tapestry of history and culture awaits your discovery. So, lace up your shoes, grab your Lisbon Card, and embark on a journey through the enchanting streets of this remarkable city. Lisbon is calling, and its magic is waiting to be explored.