Amsterdam Nightlife Guide: TOP 15 Bars & Clubs
This is my ultimate Amsterdam nightlife guide featuring the Top 15 bars & nightclubs which I carefully selected including places such as TonTon Club, Wynand Fockink, Club NYX, Kopstootbar, Jimmy Woo, Paradiso and the famous Amsterdam Pub Crawl.
Tips & Advice
Why: #1 Party capital of Europe
When: June, July & August
Last Call: None, bars stay open till 5am, certain clubs are 24hrs
Accommodation: Stay near the Rembrandtplein or Leidseplein
Best Amsterdam Bar: Kopstoot Bar (Friday night)
Best Amsterdam Nightclub: Paradiso (Saturday night)
Related: Paris Nightlife Guide
Book Now: Amsterdam Pub Crawl, just $27 USD
Map Download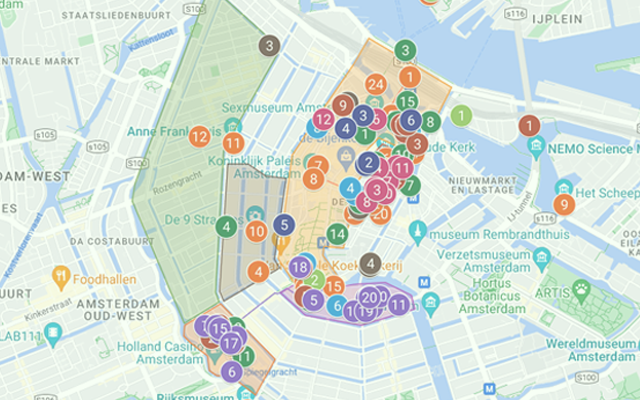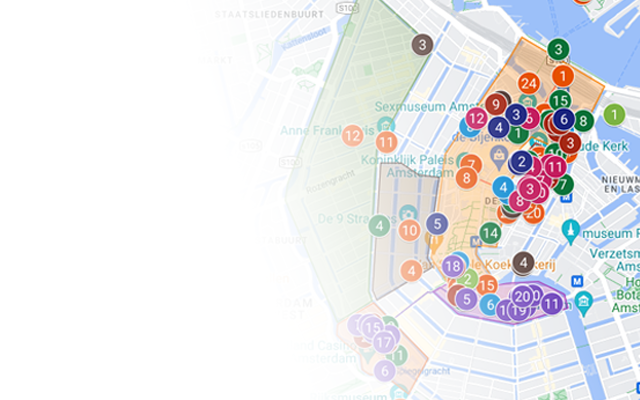 AMSTERDAM
Master Map
100+ hours of research went into creating this ultimate map including:
Attractions • Restaurants • Rooftops
Bars • Nightclubs • Walking Routes
and Bonus Tips.
Amsterdam is a small town but has many great bars and night clubs neatly located in close proximity of each other. I recommend you start your evening with a few drinks at Hannekes Boom located at the Amsterdam waterfront after drop by Amsterdam's oldest alcohol tasting chamber Wynand Fockink to try traditional Dutch Jenever from which modern Gin originated and drop by TonTon Club Center for a great meetup place to play classic arcade games. The map below will give you an idea where you should book your hotel close to the places of interest.
Places
1. Hannekes Boom

Excellent first stop for an early evening drink and admire the waterfront of Amsterdam.

2. TonTon Club Center

Near the Damrak and Red Light District you'll find this awesome social arcade loaded with classic video games and a large bar.

3. Wynand Fockink

The oldest alcohol tasting chamber in Amsterdam from 1600, try the traditional Dutch alcohol Jenever.

4. Jantjesverjaardag

A popular night clubs with a young crowd, Dutch language songs and students.

5. AIR Amsterdam

The best techno club in Amsterdam with often special events and popular techno DJ's.

6. Escape

One of the oldest and hottest night clubs in Amsterdam with a massive dance floor and famous DJ's.

7. Club NYX

A more seclusive night club with a local crowd and the wacky toilet bar on the 3rd floor.

8. NJOY

Excellent cocktail bar near Leidseplein but be aware they have a strict door policy, come sober and well dressed.

9. Kopstootbar

One of the most fun bars in Amsterdam with many university students and great house music.

10. Palladium

An upscale lounge with an older crowd, expensive cocktails and suits. You may even run into Dutch celebrities!

11. Jimmy Woo

Asian themed Jimmy Woo is a popular hiphop and R&B night club at Leidseplein.

12. Paradiso

Located in an old church building with a massive dance floor, international crowd and fantastic DJ's

13. Melkweg

Well known for its many rooms, special events and concerts. Make sure to check the event guide for the Milkyway!

14. Chicago Social Club

A laid back club with lounge & house music and a hipster kind of vibe.

15. The Waterhole

Great pub to end your evening, the Water Hole has live rock music, billiards and a older local crowd.

16. BONUS: WesterUnie

One of the best locations in Amsterdam for techno-lovers. Dynamic, industrial-style nightspot with house & techno music, plus a laid-back restaurant for eats. This is also the location of the famous Awakenings techno festival, one of the best events in Amsterdam!

17. BONUS: De School

Insane 24-hour complex that has dance parties, live music, a high-end eats + even a gym, cafe & art exhibits. This place is recommended by many locals in Amsterdam, it is a bit on the west-end but worth the journey!

18. BONUS: Amsterdam Pub Crawl

As a newcomer to Amsterdam, I highly recommend you join the Amsterdam Pub Crawl so you can familiarize yourself with the nightlife and latest nightclubs. Just $25 USD including free shots. 4 bars + 2 nightclubs, 6 hours of epic fun!
Amsterdam is breathtaking from the canals that's why my cousin and I rented a canal boat so we could have our own private tour. We rented the canal boat from canalmotorboats.com conveniently located west of Amsterdam Central Station and rents for 40 euros per hour but make sure to reserve a few days ahead. After your motorboat adventure either explore the Amsterdam Nightlife by yourself or join an epic Amsterdam Pub Crawl for just $25 USD which allows you to familiarize yourself with the Amsterdam Nightlife very quickly.
Amsterdam has 2 major nightlife districts called Rembrandtplein and Leidseplein these squares are loaded with bars and night clubs. Depending on where you start, I recommend you get a delicious negroni from NJOY cocktail bar but beware, they have a strict door policy so do not show up too trashed or under dressed.
At Rembrantplein you'll find many great spots like Escape night club, Jantjesverjaardag (a popular student bar), techno club Air Amsterdam, and my favorite Club NYX for their bizarre toilet bar on the top floor where you literally can take a piss behind the DJ in a urinal on the dance floor.
toilet bar top floor at CLUB NYX
If you're not into night clubs than Amsterdam has a magnitude of bars and cafes, it is what Amsterdam is best known for. Dig deep into local Dutch cafe culture in the Jordaan district at cozy places Cafe Thijsen, Gevulde Gaper, Staalmeesters and De Zotte.
For party bars and dive bars check out Kopstootbar and end your night either at the Water Hole for rock music and live bands or club hard at the massive Paradiso dance floor or consider Chicago Social club for a more laid back hipster kind of vibe.
running into friends at Cafe Thijsen in Amsterdam
In conclusion, the Amsterdam nightlife is one of world's best. The fact that bars and clubs are open late, no last call, great selection of music & venues plus a chill laid back local crowd that makes Amsterdam the absolute party capital of Europe, without a doubt. Ibiza eat your heart out! So make sure to reserve you tickets for either the Amsterdam Pub Crawl at Leidseplein for just $27 USD, which is my favorite Amsterdam Pub Crawl, or for the second Amsterdam Pub Crawl at the Red Light District, which is also $27 USD. Also, make sure to watch my Amsterdam Travel Guide for day time activities.