15 Secrets & Things to do in Amsterdam
These are my carefully selected 15 hidden secrets & best places in Amsterdam where I studied for 4 years and includes gems like the smallest house, weird Dutch urinals, human deformities museum, Red Light District secrets and tips for the Amsterdam nightlife.
Don't be deceived by narrow perceptions; Amsterdam is a city with far more to offer than just its infamous red-light district and cannabis culture. It's a place rich in history, brimming with stunning architecture, beautiful canals, world-class museums, and a vibrant arts scene. It's a cultural melting pot with a plethora of charming cafes, diverse cuisine, and lush green parks. Beyond the clichés, Amsterdam is a hub for innovation, a haven for cycling enthusiasts, and a treasure trove of unique, local boutiques and markets. This city encapsulates an extraordinary blend of historical charm and modern dynamism.
Places
1. Wynand Fockink

Jenever aka Dutch Gin taste room across Dam Square

2. Henks Herring

Best local herring in Amsterdam, make sure to add raw onions & pickels

3. Red Light Secrets

The first museum of prostitution in the world

4. De Krul

Bizarre public toilets located at most main canals

5. Smallest House in Amsterdam

See if you can fit through the doorway, this house is only 2 meters and 2 centimeters

6. Vrolik Museum

Largest collection of human deformations all in one place

7. Trippenhuis

Biggest house in Amsterdam built by the Trip brothers

8. Amsterdam Cheese Company

Try taste samples of the most popular Dutch cheeses

9. Equestrian Statue of Queen Wilhelmina

See if you can find the mistake with this statue, its funny!

10. Canal House Museum

Learn about the early construction of canal houses

11. Blue Amsterdam

Best view in Amsterdam at this 360 panorama restaurant

12. Sensi Seeds

Get high before you visit the art museums for an inspirational rush!

13. Hermitage Museum

Impressive collection of paintings from the Dutch Golden Age

14. Van Gogh Museum

Visit on Friday evenings to enjoy live DJ's, art shows and alcohol while browsing the Van Gogh paintings

15. Amsterdam Nightlife

The best places are Melkweg, Paradiso, The Waterhole and Club NYX! Watch the entire video!
Map Download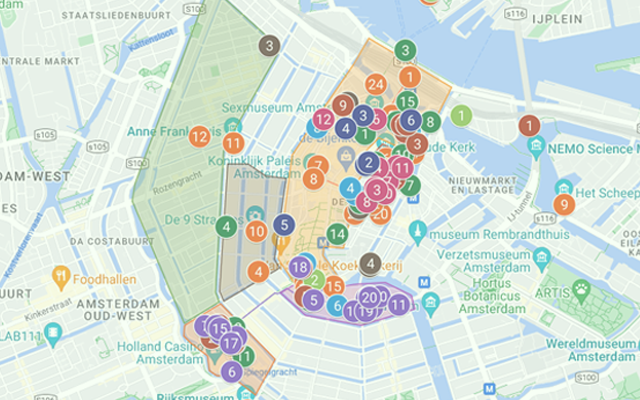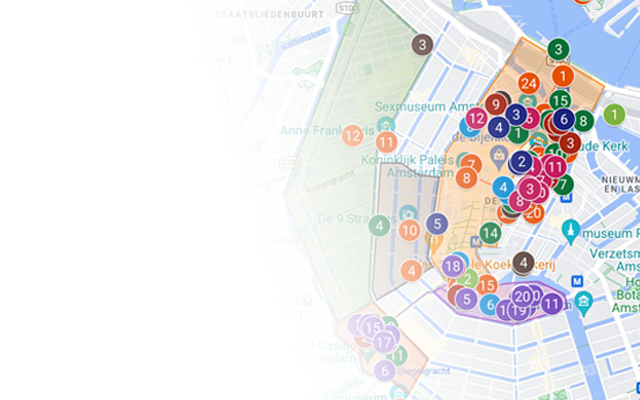 AMSTERDAM
Master Map
100+ hours of research went into creating this ultimate map including:
Attractions • Restaurants • Rooftops
Bars • Nightclubs • Walking Routes
and Bonus Tips.
Start off your journey through Amsterdam at Wynand Fockink, taste room located in a back alley at dam square, you can taste many popular gins which we call Jenever in Dutch. Jenever is Holland's national spirit since the early 17th century. The first Dutch Jenever was sold only in pharmacies as an herbal medicine.
Once warm from the alcohol grab some fresh herring at Henk's Herring, a local delight! For more crazy food adventures, check out my recent article: 5 Crazy Foods You Wouldn't Dare To Eat!
Recently, the Museum of Prostitution opened its doors. It's the first museum in the world that is focused on prostitution and don't forget to checkout the Casa Rosso theater, which offers all-you-can-drink sex shows where you can even partake in a few scenes.
taste room Wynand Fockink in a hidden alleyway
The public urinals in Amsterdam may seem disgusting to some, but the locals love em', known in Dutch as 'De Krul' and have been in Amsterdam since 1880. At least 15 people die annually while peeing into an Amsterdam canal due to being often drunk and falling in.
For dinner go to Blue Amsterdam panorama restaurant, a true hidden gem in Amsterdam, which offers the best view of the city, they serve amazing local comfort food and drinks.
strange Japanese inspired art show at Van Gogh Museum
People always ask me; 'Why is weed legal in Amsterdam?', and reply; 'Why do you think Amsterdam has the most museum in the world?' - Watching paintings while being high will make you enter a whole new dimension of art.
Speaking about art, the Vincent van Gogh Museum has 1.5 million visitors per year, and the best time to go is Friday evening when you can enjoy live DJ's, a live art show and alcohol but don't go crazy on the Absinthe like Vincent and end up cutting off your ear.
ice skating ring
For the nightlife check out this article for a list of my favorite places for a fun night out during the weekend.
Do you want more Hidden Secrets in Holland? UPDATED: Thu 13th, April, 2017