Madrid Nightlife Guide: TOP 30 Bars & Clubs
This is my ultimate Madrid nightlife guide featuring the Top 30 bars, rooftop patios, speakeasies, date spots, cocktail lounges and nightclubs which I carefully selected including places such as Fabrik, Sala Equis, Kapital, Calle 365, Macera Club, Bad Company 1920 and of course the Madrid Pub Crawl, the most fun party in Spain.
Tips & Advice
Why: Capital and heart of Spain!
When: All-year-round
Last Call: Bars & nightclubs stay open until 5am
Best Madrid Bites: Alimentación Quiroga
Best Madrid Cocktails: Bad Company 1920
Best Madrid Bar: Madrid Pub Crawl (Friday night)
Best Madrid Nightclub: Kapital (Saturday night)
Accommodation: You'll find the cheapest hotels on Booking.com
Book Now: Madrid Pub Crawl for just $21 USD
Map Download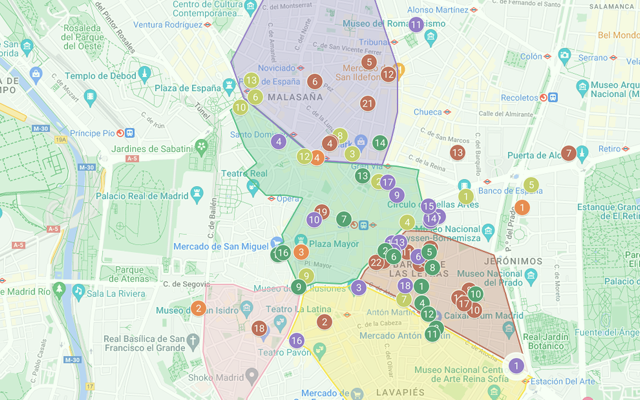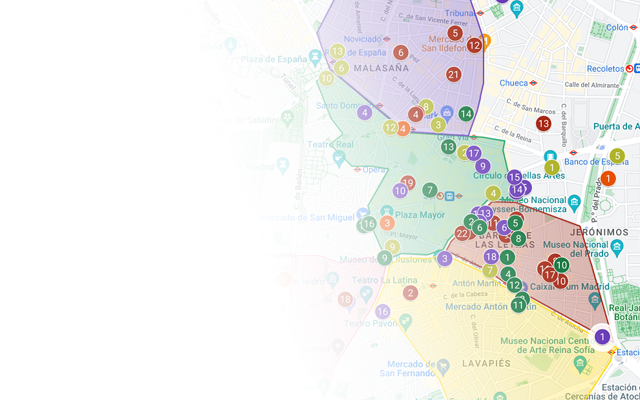 MADRID
Master Map
100+ hours of research went into creating this ultimate map including:
Attractions • Restaurants • Rooftops
Bars • Nightclubs • Walking Routes
and Bonus Tips.
Madrid's vibrant nightlife offers a thrilling journey through diverse districts, each with its unique charm and attractions. Sol, Las Letras, Malasaña, La Latina, and Lavapiés are the key areas that define the city's nocturnal landscape. This guide takes you through the best of Madrid after dark, featuring everything from rooftop patios to cozy speakeasies, exceptional tapas bars, flamenco shows, music festivals, and the hottest nightclubs.
Places
1. Alimentación Quiroga

My favorite tapas bar in Madrid! Order the Octopus cheesy toast and their excellent Sangrias, you won't regret it. Prices are afforable as well.

2. Inclan Brutal Bar

Senses overload cocktail bar with a vibrant decor and ridiculously creative dishes like the injecting ricotta cheese on a bed of strawberries.

3. Salmon Guru

Currently world's TOP 15 most popular cocktail bar, and known for the giant Dragon Daughter's cocktail. Do come early because lines start to form in the early evening.

4. Cheers Karaoke

Great spot to start the evening and socialize in Las Letras. Entrance is free and you can sing your heart along some Spanish karaoke on stage!

5. La Santoria

Mysterious voodoo-style cocktail bar with ingredients shipped in from all over the world! This place has very limited seating so come very early in the evening.

6. Calle 365

Insane Mexican themed nightclub with a taco truck in the venue, neon fluorescent lights, great latin music, giant dragon cocktails and alcoholic popsicles. The best part; the DJ in the bathroom!

7. Madrid Pub Crawl

As a newcomer to Madrid, I highly recommend you join the Madrid Pub Crawl so you can familiarize yourself with the nightlife and most current nightclubs. Just $21 USD including many shots. 3 Bars + 1 Nightclub in 4 hours of epic fun!

8. Enbabia Infused

First club on the Pub Crawl and a perfect club to start the party, gigantic cockails for $10 USD, 2 seperate bars, and a great atmosphere.

9. Monnalisa

Often the second spot on the Madrid Pub Crawl, this place has 2 large rooms and 2 bars. It is a great place to meet locals and expats. Primarily a younger crowd.

10. Dali

A more laidback club on the Madrid Pub Crawl on the edge of Las Letras. A great spot to meet many local youngsters from Madrid. Expect latin music here as well.

11. ICON

One of the more popular nightclubs in Las Letras and known for Top40, house music, bottle service and pretty girls.

12. Samsara

Another popular nightclub in Las Letras, known for a large dance floor, top40, house music, bottle service and a young crowd.

13. Macera Club

My favorite techno club in Madrid, with the top floor being a local gin bar, and the basement the techno club with a large dance floor and often popular techno DJs spinning until 5am.

14. Azotea del Circulo Rooftop Bar

A top-rated rooftop bar in Madrid, renowned for its prime central location and breathtaking panoramas. This bar offers a remarkable 360-degree view of Madrid's skyline, arguably the most spectacular vista in the entire city.

15. Garden of Salvador Bachiller

Most romantic rooftop bar in Madrid and an excellent spot to bring a date. A minimum spend of 15 euros per person is required. I recommend the bird cage cocktail and the sweet afternoon tea set.

16. Madrid Tapas Crawl

Dive into the gastronomic delights of tapas and experience Madrid through its signature small dishes. On this 2.5-hour tour of tapas bars, you will gain an understanding of the fundamental principles of Spanish cuisine.

17. F*ckin' Monday

Dancing your heart out to the newest commercial mixes on the massive main floor, shaking your hips in the Latin Room and raving to the latest electro music in the Boiler Room!

18. Toy Room Madrid

This club spans two levels and features multiple VIP rooms designed like hotel suites, each uniquely adorned with exclusive Toy Room art. These luxurious spaces are equipped with PlayStation, Netflix, and even a DJ booth located in the bathrooms for an extraordinary experience.

19. Teatro Magno

A theater nightclub situated in the iconic Bogart Cinemas building, right in the center of Madrid. This venue regularly hosts a variety of shows every week.

20. Teatro Eslava

One of the nerve centres of the Madrid Movement and a trendy disco for many generations well into the 21st century. Go here for big party events like Halloween in Madrid!

21. Nice To Meet You Rooftop Lounge

Enjoy breathtaking 360-degree views from the 14th floor of the Dear hotel, overlooking the Royal Palace, Plaza de España, Gran Via, and Casa de Campo park. Its signature features include a range of cocktails, long drinks, music, and a DJ on weekends.

22. Lolina Vintage Cafe

This venue harkens back to the era of guateques and includes a lounge on the lower level, adorned with various mirrors, sofas, and armchairs. Here, on Thursdays, Fridays, and Saturdays, vibrant parties are held, featuring music from the 1960s.

23. Next Level Arcade Bar

Best video game arcade bar in Madrid, entrance is free, the video games are free, the only is expected from you is buying a drink. This place does get busy on the weekends so come early!

24. Bad Company 1920

Drawing inspiration from the actual prohibition era, this bar is cleverly concealed in true Speakeasy style, embodying the spirit of the roaring 1920s. Ingeniously disguised within objects to maintain the illusion of the 1920s, a time when alcohol was forbidden! Entrance is FREE!

25. Le Tavernier

An urban oasis in the heart of Madrid that is inspired by the world of the sea. An exquisite terrace where you can enjoy tapas and snacks along with signature cocktails and delicious drinks. Entrance is FREE!

26. Sala Equis

An old-world cinema turned into a new-world socializing theater with amazing seating areas, a popcorn bar, craft cocktails, and a large movie theater screen with really bizarre movies. Entrance is FREE!

27. Kapital

Considered the best nightclub in Madrid complete with 7 floors of party fun. Come here on the weekends for one of the best nights out in Madrid. Bottle service, house music and pretty girls!

28. Fabrik

Located quite a drive from downtown Madrid, but this venue has a capacity of 4000 people and hosts massive parties on the weekend. Fabrik even has a hotel onsight so you can dive right into bed after the party.

29. Flamenco Show

No trip to Madrid is complete without attending a Flamenco Show. Corral de la Moreria is the oldest and most famous flamenco show in Madrid. Although pricey; $53 USD per person.

30. Madrid Music Festivals

Madrid counts many incredible music festivals ranging from A Summer Story in June to Mad Cool in July, held on the outskirts of Madrid.
In the heart of Madrid's nightlife, Barrio de Las Letras, also known as LAS LETRAS, stands out. Begin your night at Alimentacion Quiroga, a favorite local spot known for its delicious tapas and lively Spanish ambiance, all at very reasonable prices. Inclan Brutal Bar is next on the list, a vibrant cocktail bar with unique decor and innovative dishes like a bao served in a panda belly and duck fried rice presented in a duck.
Best cocktails at La Santoría in Madrid
Salmon Guru, another must-visit cocktail bar, offers the famous "Dragon's Daughter" cocktail, a blend of whiskey, coconut, red fruit, and lychee. Priced around 14 euros, it's a taste of luxury. For a fun early evening activity, Cheers Karaoke is where locals go to sing their hearts out. Then, switch gears at La Santoria, a cocktail bar where the drinks are crafted with globally sourced ingredients and served with special magic potions.
Calle 365 offers a Mexican-themed party experience, complete with a taco bar and neon fluorescent decor. The venue's visually stunning cocktails are a testament to Madrid's flair for presentation. For newcomers to the city, the Madrid Pub Crawl is an excellent way to explore. It leads expats, travelers, and locals through three bars and one epic nightclub, making it easy to meet new people and discover Madrid's latest hotspots.
Cheesy octopus toast at Alimentacion Quiroga in Madrid
The crawl often starts at Enbabia Infused, known for its warmup shots, with cocktails priced around 10 euros. Across the street is Monnalisa, another popular stop. With the pub crawl, you essentially bring the party with you wherever you go. Dali and Samsara are other highlights on the crawl, offering laid-back vibes and a young, energetic crowd, respectively.
Macera Club, with its craft gin bar and basement techno club, is an ideal spot to end your night in Las Letras. Special tip: visit on a Thursday night before 11 pm to skip the cover charge and the line. In the Sol district, along Calle Gran Via, you'll find upscale shops and restaurants, as well as iconic sites like the neon-lit Schweppes building.
Nice To Meet You Rooftop Lounge in Madrid
Azotea del Circulo Rooftop Bar in SOL is perfect for late afternoon drinks, offering stunning views of Madrid. Though there's an entrance cover, the experience is worth it. For a more romantic setting, the Garden of Salvador Bachiller is ideal, especially known for its afternoon tea and unique cocktails. Alternatively, immerse yourself in Spanish culture with a Madrid Tapas Crawl.
Malasaña, a bit north of SOL, is a hipster area known for its vintage shops. Start at the Nice To Meet You Rooftop Lounge for great views, then head to Lolina Vintage Cafe for a hangover brunch. For some nostalgic fun, visit Next Level Bar Arcade, filled with classic games and a retro vibe. Step back into the 1920s at Bad Company 1920, a speakeasy with a lively atmosphere and creative menu.
Sala Equis in Madrid trendy cinema
In Lavapiés, Sala Equis, an art-house movie theater, offers a unique experience where you can enjoy cocktails and movies in a historic setting. For nightclub enthusiasts, Kapital and FABRIK are must-visits, with the latter hosting large techno, house, and trance nights and even offering a hotel for convenience.
A trip to Madrid isn't complete without experiencing a live flamenco show. Corral de la Moreria, the city's oldest flamenco venue, offers an unforgettable performance, with tickets starting at 53 US dollars, including a drink.
Madrid Pub Crawl
Navigating Madrid is easy, with plenty of buses, subways, and options like Bolt for affordable and convenient transport. Renting a local LIME bike is another great way to explore. To save on attractions and public transportation, consider the Madrid Go City Pass, a cost-effective choice for travelers planning to explore extensively.
This guide to Madrid's nightlife is just the beginning of what the city has to offer. Each district brings its unique flavor to the table, creating an unforgettable experience for every visitor. From the buzzing bars of LAS LETRAS to the romantic rooftops of Sol, Madrid's night scene is a vibrant tapestry of experiences waiting to be discovered.