Osaka Nightlife Guide: TOP 20 Bars & Clubs
This is my ultimate Osaka nightlife guide featuring the Top 20 bars, rooftop patios, speakeasies, date spots, cocktail lounges and nightclubs which I carefully selected including places Captain Kangaroo, Sam & Dave, OWL, The Pink, Gala Resort, Space Station and of course the epic Osaka Pub Crawl.
Tips & Advice
Why: 2nd best nightlife in Japan after Tokyo
When: Spring & Fall
Last Call: Nightclubs stay open until the first train starts running
Accommodation: Stay in either the Umeda or Shinsaibashi districts
Pocket Wifi: Stay connected across Japan with Pocket Wifi (10% discount)
Best Osaka Bar: Osaka Pub Crawl (Friday night)
Best Osaka Nightclub: Gala Resort (Saturday night)
Book Now: Osaka Pub Crawl, just $29 USD (10% discount)
Map Download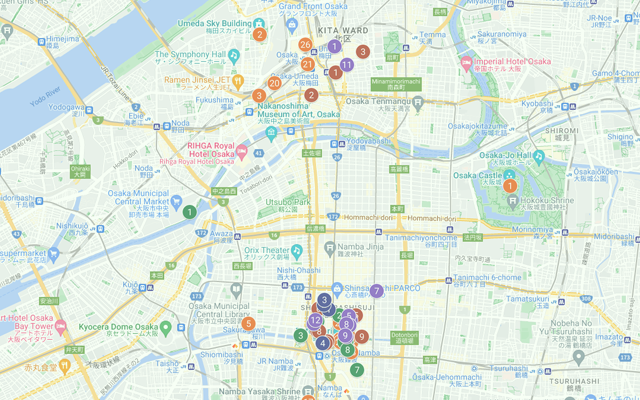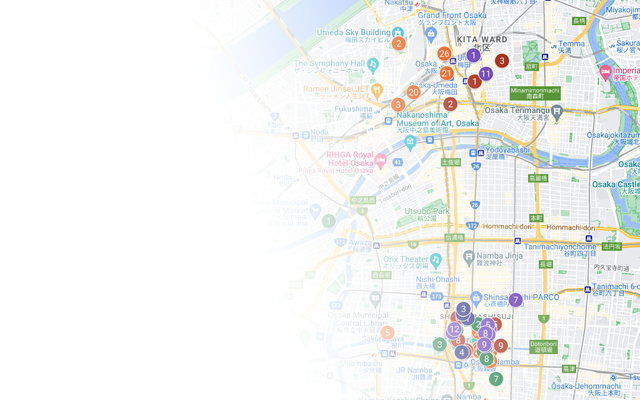 OSAKA
Master Map
100+ hours of research went into creating this ultimate map including:
Attractions • Restaurants • Rooftops
Bars • Nightclubs • Walking Routes
and Bonus Tips.
Osaka is a massive city, luckily the nightlife is concentrated in just a few districts to make clubbing in Osaka a lot easier. The most common party districts are Umeda (east of Osaka Station), Amerikamura (the funky town) and Shinsaibashi (the best party district). Osaka has a ton of bars and nightclubs to choose from, that's why I spent quite some time in this city to bring you the best places in town. If you do not have a lot of time, spend at least one weekend in Shinsaibashi for the ultimate Osaka party experience.
Places
1. Captain Kangaroo

Great bar to start off your Osaka nightlife adventure. A laid back sports bar with happy hour and fun games!

2. Rock Bar Midian

A metal rock bar with a satanic atmosphere and creepy decoration. Quite unique in Osaka!

3. Christon Bar

Cleanse your sins at this Christian bar with incredible decor, cheap food and drinks and open until 5am

4. OWL Osaka

100% Japanese nightclub, you will not find many foreigners here. 3500 yen cover ($33 USD) includes 1 drink ticket. Packed and busy until 4am!

5. Moon Walk

Super cheap bar where drinks are only 200 yen ($1.80 USD) and food 300 yen.

6. Rooftop Bar OO

Most unique rooftop bar in Osaka with a outdoor pool, shishas and funky beats. Free entrance!

7. Gala Resort

Most popular nightclub in Osaka with 3 floors, epic beats and a young crowd. This place has multiple floors.

8. Bettei Bar (大阪かに源 別邸 宗右衛門町店)

Almost impossible to find but 100% worth it! This hidden rooftop bar has the best view of the Dotonbori river. A romantic Japanese bar.

9. Osaka Pub Crawl

As a newcomer to Osaka, I highly recommend you join the Osaka Pub Crawl so you can familiarize yourself with the nightlife and most current nightclubs. Just $20 USD including many shots. 3 Bars + 1 Nightclub in 4 hours of epic fun!

10. The Blarney Stone

The Osaka Pub Crawl starts here, a great laid back international bar where you'll meet many travelers, expats and locals.

11. Domus

A fun bar in the Amerikamura district, one of the stops on the Osaka Pub Crawl with a cozy atmosphere, a great place to mingle.

12. Life

In a dodgy alleyway you'll find the Life Club dive bar in hidden basement. This place is actually super fun with foosball tables and darts. Entrance is FREE!

13. Sam & Dave

Considered the most popular bar in Osaka, Sam and Dave has been around for decades and feature a large dance floor, great drinks and sexy Japanese pole dancers.

14. Club Candy (Amber)

A new, sexy, hot nightclub in Osaka, not known by many foreigners but many pretty Japanese girls party here and music is pretty good as well.

15. The Pink

Latest nightclub in Osaka, the Pink, as the name states, is a completely pink nightclub with a large dance floor, bottle service, dancers and good modern music. Bucketlist worthy!

16. ADAM Lounge (G2 PLUS)

My favorite nightclub in Osaka, this place is pumping! Often considered the after party after Giraffe and stays open until 5am. DO NOT MISS THIS PLACE!

17. Berg

The best hiphop and rap nightclub in Osaka, best time to visit is on Thursday night.

18. Bar Heaven

If you still have energy at 5am and want to continue partying go checkout Bar Heaven which is open until noon.

19. Space Station

Do you love video games? Space Station Osaka is your spot! Incredible cocktails and every retro console you can dream off, mostly visited by expats and travelers. Entrance is FREE!

20. Garden Bar

Do you like Japanese ParaPara dancing? Visit Garden Bar on Thursday night for their weekly SEN: Super Euro Night event.

21. SECRET: Backstreet Osaka Tour

Join the Backstreet Osaka Tour for an unforgettable night through the underbelly of Osaka including the secret Red Light District!
The best possible thing you can do is join the Osaka Pub Crawl on Friday night in Shinsaibashi which covers 3 bars and 1 epic nightclub twice per week. Including places such as DOMUS, LIFE and Sam & Dave. The Osaka Pub Crawl is a great way to quickly make new friends in Osaka and learn everything about the latest hot spots in the city. The Osaka Pub Crawl is ONLY $20 USD with a 10% discount for 4 hours of fun, you cannot go wrong!
Osaka Pub Crawl at LIFE club
After the Osaka Pub Crawl you can go your own way and head over to famous nightclubs in Shinsaibashi like Gala Resort, ADAM (G2 PLUS) and The Pink. These nightclubs are the best places for an epic night out. Entrance can be a bit pricey, often 3500 yen ($33 USD) for men and 1500 yen ($13 USD) for women but these prices do include 1 or 2 drink tickets.
If you make new friends in Osaka, you will eventually be asked to be added to LINE. LINE is 'the' chat app in Japan, so if you do not have DATA on your phone during your stay, make sure to rent a dirt cheap pocket Wifi station at the airport. You can take these pocket Wifi stations all over Japan and allow you to connect many of your devices like your laptop, tablet and phone. It even fits in your back pocket. Luckily, I have a 10% discount on Japan Pocket Wifi station. I personally rent this device everytime I visit Japan.
Giraffe Nightclub in Osaka
The lesser known area to party in Osaka is Umeda East Steet which includes cool bars like Christon Cafe (a church themed bar with cheap eats and drinks), rock bar Midian (a cool hidden metal bar with great cocktails and a dark atmosphere), the best nightclubs in the Umeda district are OWL Osaka (mostly visited by local Japanese) and Piccadilly, one of the biggest nightclubs in Osaka.
Great bars to start your Osaka nightlife adventure are Captain Kangaroo, a sports-bar located across Osaka Station, they offer happy hours, cheap drinks, snacks, darts and a cozy atmosphere. Next is Space Station, a nerd friendly bar with fun cocktails like the Commodore 64 special and tons of retro games like StarFox and Turtles in Time. Space Station is a bar not to be missed!
Dotonbori in Osaka
Above all, do not leave Osaka without visiting the famous Dotonbori area. Dotonbori is loaded with incredible restaurants and street foods ranging from Takoyaki, Giant Japanese Oysters, Okonomiyaki, Kushikatsu and Osaka Ramen. Dotonbori is truly the heart of Osaka where you'll find the famous Glico running man sign.
While you are in Osaka I highly recommend you visit Universal Studios Japan during October for their Halloween Zombie Walks during the evening which includes some great street parties at the USJ park. Check this link for discounts on USJ tickets!
Oden, snacks in broth, epic after party food
For after party food consider buying a delicious Famichiki from the FamilyMart convenience store, fresh deep-fried chicken, a mouth-watering sensation. FamilyMart also offers Oden, all kinds of warm tasty snacks in hot borth often located near the cashier. Alternatively, there are tons of ramen restaurants open late so plenty of choices for food 24/7.
For the ultimate Osaka experience, join the Backstreet Osaka Tour through the underbelly of Osaka including a walk through Shinsekai, Tobita Shinchi (Red Light District) and an epic street food adventure. Checkout my full review. In conclusion, the Osaka Nightlife is a underrated gem. The city offers so many great places to drink and party but if you are new to Osaka, do not forget to join The Osaka Pub Crawl for just $20 USD with 10% discount and includes 4 hours of fun at the best places in town, you cannot go wrong!
LIFE club in Osaka
Do you want more travel tips for Osaka?
In Dotonbori, checkout these great tourist bars; and

In Shinsaibari, checkout these fun bars as well; Safari bar, Absinthe and The Australian

Rent a pocket Wifi rental station at the aiport (10% discount)
Jump into a wine, coffee and green tea spa at Yunessun Waterpark in the Hakone region
Real Life Mario Kart in Osaka, only $79 USD (10% discount)
More tips in my Tokyo Nightlife Guide