Lisbon Nightlife Guide: TOP 30 Bars & Clubs
This is my ultimate Lisbon Nightlife Guide featuring the TOP 30 bars, rooftop patios, speakeasies, date spots, cocktail lounges and nightclubs which I carefully selected during a 1-month stay. Adventure and allure dance hand in hand under the shimmering Portuguese sky. Immerse yourself in the nightlife at the popular Bairro Alto and Cais do Sodre districts at epic places like Vago, Pavilhão Chinês, Lisboa Rio, Titanic-Sur-Mer, Foxtrot, Kremlin, Incognito and of course the Lisbon Pub Crawl.
Tips & Advice
Why: Europe's most accessible nightlife!
When: Spring, Summer & fall
Last Call: Some bars & nightclubs stay open until 6am
Best Lisbon Bar: Vago (Friday night)
Best Lisbon Nightclub: Titanic Sur Mer (Saturday night)
Accommodation: You'll find the cheapest hotels on Booking.com
Book Now: Lisbon Pub Crawl for just $21 USD
Map Download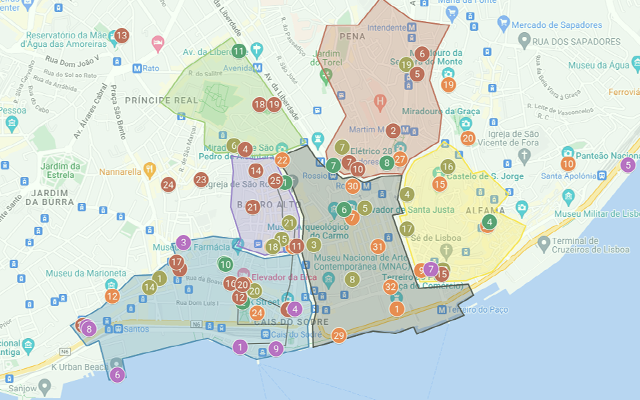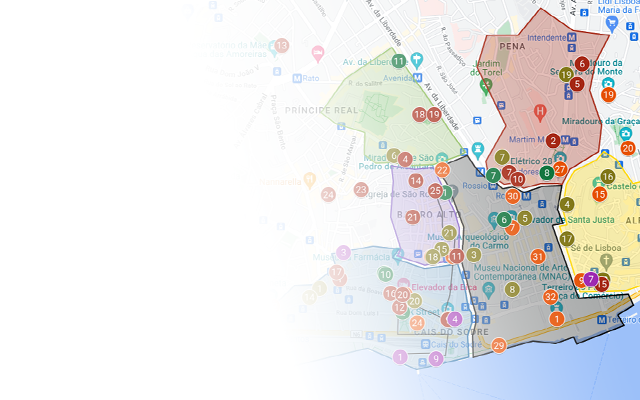 LISBON
Master Map
100+ hours of research went into creating this ultimate map including:
Attractions • Restaurants • Rooftops
Bars • Nightclubs • Walking Routes
and Bonus Tips.
Starting our journey in the lively district of Arroios, we dive headfirst into the rich, velvety liquid history of Ginjinha Sem Rival. Known for its legacy, spanning over 130 years, this place offers a unique shot that oscillates between cherry schnapps and buckley's cough syrup! As we cross the street, we find ourselves in a world of friendly rivalry at A Ginjinha.
Places
1. Ginjinha Sem Rival

Try the most typical Portuguese liqueur in Lisbon, called Ginjinha at this 130 year old establishment. Just $1 USD per shot.

2. A Ginjinha

Sem Rival's biggest rival across the street also selling shots for $1 USD. Made from infusing Ginja berries in alcohol and sugar.

3. Cafe Klandestino

Unique cocktail bar with wacky cocktails like the Seafood cocktail, a combo of aperol and a tomato base served on a wooden pallet. Also try their apple pie cocktail.

4. TOPO Martim Moniz

One of the best rooftop parties in Lisbon, including 2 different rooftop areas, 2 DJ's and an arcade with classic like Mortal Kombat. Cocktails, roughly $10 USD

5. Lisbon Pub Crawl

Most ultimate Lisbon experience is their pub crawl, this is one of the biggest in Europe and a ton of fun. 3 bars and 1 epic nightclub for just $21 USD

6. MDMA Bar

Lisbon Pub Crawl's first stop is the MDMA bar for free shots and mingle with all the locals in Bairro Alto. An excellent 1st stop!

7. Espumanteria do Cais

Offering OPEN BAR during the Lisbon Pub Crawl, unlimited beer and sangria making your $21 USD well worth the investment.

8. Bar Gelato

Around the corner from Pink Street, is this cocktail ice cream bar. Try the Ginjinha cocktail infused with chocolate ice cream.

9. Lisboa Rio

Often the final nightclub on the Lisbon Pub Crawl. This is one of the best parties in Lisbon with multiple floors, an outdoor patio, and different DJ's.

10. Titanic sur Mer

My favorite venue for a good night out in Lisbon, the crowd is super local, friendly and fun! Entrance is FREE, and a beers starts at only $2.50 USD, just madness!

11. Boavista Social Club

For a laid-back vibe, checkout this bar on Boavista street. A vinyl bar with locals of good food and drink options.

12. Bloody Mary Lisboa

A Japanese inspired cocktail bar around the corner from Boavista Social Club with often live music on Friday nights.

13. Vago

My favorite lounge/wine bar in Lison, for its upscale crowd, funky beats, excellent cocktails, a good looking people.

14. Incognito

Are you in the mood for some 80's and 90's music? Incognito is a great venue with a solid vibe and an older crowd. Entrace of 10 euro goes towards your drink ticket.

15. Plateau

The most lively party venue in Lisbon, this place is a bit pricey, 16 euros for guys, 8 euros for girls, but does include multiple drink tickets. Popular with young and old crowd.

16. K Urban Beach Club

One of the bigger music venues in Lisbon, complete with a outdoor deck, pool party, bottle service, massive indoor dance floor with great DJ's on the weekend.

17. Kremlin

One of the better techno venues in Lisbon. However, the entrance can be a bit pricey but it's open until 6am on the weekends.

18. LuxFragil

Another popular techno venue on the east side of Lisbon. It has a massive dance floor with special events during the weekend.

19. Lumi Rooftop

Rocking on of the best views from the Bairro Alto district of the Tagus river and Alfama. Excellent spot to bring a date! They serve great cocktails and snacks. Make sure to reserve ahead!

20. Associação Loucos e Sonhadores

The cheapest bar in Lisbon! A jazz bar with cozy seating and a home-like atmosphere. A doubel gin tonic for 4 euros, a complete charcuterie board 5 euros!

21. Cinco Lounge

Cozy laid back lounge for an evening cocktail with great bartenders and chill lounge music. Another great spot to bring a date! No reservations required.

22. Foxtrot

This bar is a local legend! It feels like you walked into someone's house with large amount of detail and multiple rooms, billards, an outdoor patio, board games, and extremely cheap drinks and snacks!

23. Pavilhão Chinês

The most beautiful bar in Lisbon. However, I consider it a museum bar. Open until 2am! Come here for a free museum adventure and explore their colonial war collection, beer mugs, large toy army and army helmuts.

24. Monkey Mash

One of the most fun cocktail bars in Lisbon. Funky beats, lovely staff, and unique cocktails. However, this place is not cheap but it is a great place to bring a date.

25. Red Frog Speakeasy

If you work your magic at Monkey Mash, the staff can put you on the wait list for this hidden speakeasy. The secret door is located somewhere within Monkey Mash.

26. Hot Club of Portugal

If you like live jazz music, than you've have come to the right place! Expect free jazz sessions during the week days. A glass of wine? Just 4 euros.

27. Sky Bar Lisboa by Seen

You'll find the upscale jet-set of Lisbon on this rooftop patio. An excellent spot for mingling with business men and women while enjoying breathtaking views of the Lisbon skyline.

28. GSpot Hostel

A great party hostel in Bairro Alto with cheap room rates, free walking tours, evening food buffets, and beer pong! If you are back packing, you may want to consider staying here.

29. Pensão Amor

One of the more bizarre bars on Pink Street, with a large phallus collection on display which the owner collected over many years, making it some what of a museum.

30. Monte Belvedere

The absolute best views can be enjoyed from this rooftop patio bar. Views of Lisbon, the Tagus river, and the 25th of April bridge. However, you do have to be a customer of the hotel.
As the sun begins its descent, we move towards Café Klandestino, where the cocktails are wild and served on mini wooden pallets, literally! Meanwhile, the Topo Rooftop breathes a different vibe, presenting majestic views of Alfama and an older, more laid-back crowd.
Foxtrot bar in Lisbon
Next stop, Cais do Sodré, the heart of vibrant fun with its renowned Pink, Green, and Boavista Streets. Here, the famed Lisbon Pub Crawl connects you with diverse spirits (literally and metaphorically) for an unforgettable blend of local and international friendship. Get tickets to the Lisbon Pub Crawl for just $23 US dollars, click on the link for a 10% discount on tickets.
As we wander, MDMA Bar offers an introduction with free shots and endless weekend mingling, a staple in this student-packed area. And then, the bubbly spirits at Espumanteria do Cais seduce with their all-you-can-drink policy on beer and sangaria. Feel the bubbles!
Lisbon Pub Crawl, one of the most fun pub crawls in Europe!
Exploring further, we discover the sweet allure of Bar Gelato's alcoholic gelato cocktails and the effervescent charm of Lisboa Rio, with its multiple dance floors pulsating with rhythm. Don't lose your special card here, or your wallet might feel a little lighter by 50 euros!
Green Street and Rua do Boavista whisper secrets of little bars and speakeasies, like Boavista Social Club and Vago, a reservoir of live music and high-quality cocktails. It's all about hidden gems and unexpected treasures around every cobblestoned corner!
Pavilhão Chinês, most unique bar in Lison
Then, we immerse ourselves in the boisterous energy of Bairro Alto, the upper district teeming with cozy cobblestone roads and spectacular views. The romantic allure of Lumi Rooftop and the eclectic charm of Associação Loucos e Sonhadores offer unique experiences, from cooling sprays to inexpensive gin tonics and charcuterie boards. Moving gracefully to Principe Real, we explore the museum bar Pavilhão Chinês, the jungle ambiance of Monkey Mash, and the hidden elegance of Red Frog Speakeasy. Whether you're in the mood for jazz at Hot Club Portugal or craving the jet set experience at Sky Bar Lisboa by Seen, Principe Real has got you covered!
Finally, for those with a taste for the explicit, Pensão Amor teases with its naughty museum, while the stunning views from Monte Belvedere Boutique Hotel's rooftop paint Lisbon in the most romantic lights. Lisbon's nightlife is a symphony of experiences, a cascade of moments and a realm of memories waiting to be made!